Links, Books and Other Resources
Articles and "How to...." Guides
Dedicated Websites
Recommended eBooks
Books: Buying a Business
Books: Selling a Business
Books: Preparing a Business for Future Sale
Books: General: Buying and Selling Businesses
ARTICLES and REFERENCES
BUYING A BUSINESS

| | |
| --- | --- |
| How to Buy a Business | |
| | Selecting the business type, professional help, budgeting and researching, analysing the targets, negotiating a price, agreements, due diligence and handing over. There's a lot to get right here.! |
| | |
| --- | --- |
| Conducting a Due Diligence on Buying a Business | |
| | What is it and why is it necessary.? Effectively, it is an audit of the sale offer and prospectus to make sure you will be getting what you have paid for. Who should be doing the work and should it be you.? This article includes a detailed checklist of common due diligence items. |
SELLING A BUSINESS
| | |
| --- | --- |
| Preparing Your Business for a Future Sale | |
| | Preparing a business for sale is quite different to the actual selling of the business. There are many aspects of the sale preparation which take can a considerable time to organise and put in place. And these issues will have a considerable effect on the price you realise and the time that it takes to find a suitable buyer |
| | |
| --- | --- |
| How to Sell Your Business | |
| | Lots of issues here. Do you really, really want to sell for the right reasons - and is this the right time. How to determine the correct price. Should you be an owner-seller or should you be using a broker. Maintining confidentiality and avoiding the sale negatives. Finding the buyer and financing the sale. |
| | |
| --- | --- |
| Assessing the Value and Price for a Business | |
| | Determining a fair, accurate and justifiable price for your business is a major factor in achieving a sale. However there are a number of different methods used - and they yield different results. Knowing the subject enables you to argue for your case. |
GENERAL TOPICS
Choosing a Business Partner
When selecting and evaluating a prospective business partner there are a number of criteria and issues to consider. And undoing a bad business partnership is something you don't want to do.
.
| | |
| --- | --- |
| Financing Sources for your Business Purchase | |
| | The biggest obstacle to sales being concluded is often the availability of funding and capital for the purchase. The traditional sources are usually looking for strong security so you may need some innovative and different ideas. |
DEDICATED WEBSITES
Diomo Corporation - The Business For Sale Buyer Resource Centre

The Average Small Business Purchase Involves 36 Critical Questions You Must Ask Every Seller, 200 Individual Points To Investigate, 54 Specific Clauses To Negotiate and 73 Key Issues To Review In Every Business For Sale Listing.

Sounds daunting.? And it is.! But this website exists for the sole purpose of providing you with the skills to navigate this minefield.
Hundreds of tips, strategies, and inside secrets to help you find the business that is absolutely right for you. Covers the entire buying process!
RECOMMENDED E-BOOKS
| | |
| --- | --- |
| Due Diligence - The Complete Due Diligence Checklist and Strategy Guide Download. | |
| | It provides a sensible "nuts 'n bolts" guide to your critical evaluation of any business that you are considering buying. The Guide is affordable at $25 and they offer a full, 'no questions asked' money-back guarantee at anytime. In any event, reading this page will give you serious food for thought! |
Recommended Books - BUYING A BUSINESS
The Complete Guide to Buying a Business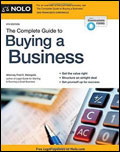 A perfect guide for entrepreneurs.
Whether you just want an overview of the business buying process or you're ready to acquire an existing business, you know you'll need to finance, negotiate and structure the deal and protect yourself from unpleasant surprises. The Complete Guide to Buying a Business will give you everything you need to know including more than two dozen crucial forms and legal documents to help you do it. You'll learn how to:
find the right business
analyze the seller's numbers
make sense of the tax issues
avoid outstanding liens and liabilities
prepare and sign a sales agreement
close the deal
prevent the seller from competing against you
work with lawyers, accountants and brokers
This book is also available from Loot.co.za in South Africa.


---
HBR Guide to Buying a Small Business (HBR Guide Series)
Are you looking for an alternative to a career path at a big firm? Does founding your own start-up seem too risky? There is a radical third path open to you: You can buy a small business and run it as CEO. Purchasing a small company offers significant financial rewards - as well as personal and professional fulfillment. Leading a firm means you can be your own boss, put your executive skills to work, fashion a company environment that meets your own needs, and profit directly from your success.
But finding the right business to buy and closing the deal isn't always easy. In the HBR Guide to Buying a Small Business, Harvard Business School professors Richard Ruback and Royce Yudkoff help you:
Determine if this path is right for you
Raise capital for your acquisition
Find and evaluate the right prospects
Avoid the pitfalls that could derail your search
Understand why a "dull" business might be the best investment
Negotiate a potential deal with the seller
Avoid deals that fall through at the last minute
---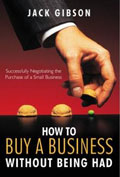 How to Buy a Business without Being Had: Successfully Negotiating the Purchase of a Small Business
It's imperative to learn about common pitfalls that often trip up unwary buyers and how to determine a fair value for a business that attracts your interest, even businesses that at first glance appear to have little or no reported earnings. Mr. Gibson helps you do your due diligence. Make it a point to gain all the knowledge you can as you think about one of the most important financial decisions of your life. Learn what constitute the elements of value, why adjustments to financial statements are important and how to determine the accuracy of financial statements. Gibson also describes how to prepare a purchase contract that will protect your interests and ensure a smooth closing. The book also contains a useful study and discussion guide.
This book is also available from
Loot.co.za
in South Africa.
---
How to Buy a Business With Little or No Cash Down
This book tells the prospective buyer everything they need to know to successfully find and buy a business. It is written especially for the first-time buyer, but is equally helpful for an experienced buyer. The book teaches simple, powerful, and practical techniques that show step-by-step how to find good businesses for sale, how to contact prospective sellers, how to simply and quickly evaluate businesses, how to negotiate favorable terms, how to finance the business with the least money down, how to negotiate owner financing, how to protect yourself from the unknown when structuring contract terms, how to work with a closing attorney, how to close the deal, and much more.
---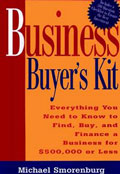 Business Buyer's Kit : Everything You Need to Know to Find, Buy, and Finance a Business for $500,000 or Less
Business Buyer's Kit is relevant no matter what your sector of business or where in the world you live.
Mistakes in the acquisition process could cost you many times the price of any deal--it could cost you latent lawsuits, negatively shifting trends (that diminish demand, or raise the cost of supply), and ultimately the quality of your life.
Whatever you do, don't buy someone else's problems. Approach acquisition in a planned and deliberate manner.
Learn techniques to formulate tough questions for both yourself and a seller. Ensure you ask the right people the right questions, and educate yourself about the acquisition process.
---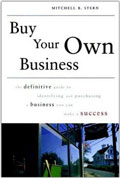 Buy Your Own Business: The Definitive Guide to Identifying and Purchasing a Business You Can Make a Success
A comprehensive field guide that shows how to define goals and map out sure-fire strategies for finding, and ultimately buying, a business that will work for the buyer. Mitchell B. Stern, an expert attorney practicing in the field, covers all you need to know when buying a business: assembling a team of professionals to assist in the deal; negotiations; due diligence; judging worth; creating a business plan; re-starting a business under the buyers new leadership; and making it a success.
---
Recommended Books - SELLING A BUSINESS
Sell Your Business for an Outrageous Price: An Insider's Guide to Getting More Than You Ever Thought Possible
Too many businesses sell for far less than they should! After pouring time, energy, and money into their company, owners deserve to squeeze every last dollar they can from that hard-earned investment. Sell Your Business for an Outrageous Price is the playbook they need to win big at the closing table. Readers will discover how to:
Prepare their companies and themselves for sale - Recognize the best time to go to market - Minimize their risk - Identify, attract, and motivate deep-pocketed buyers - Determine their company's competitive advantage and leverage it for the best offer - Find a transaction advisor with the skills and experience to guide them through the M&A jungle - Ascertain whether the advisor has what it takes to get top dollar - Maintain confidentiality - Foil buyers' attempts to undermine sale price - And much more.
Featuring real-life case studies and an appendix of indispensable tools -- including due diligence lists, sample nondisclosure agreements, a sales readiness assessment, and a sample engagement letter -- this insightful guide reveals how anyone can get a positively outrageous price for their company.
This book is also available from
Loot.co.za
in South Africa.
---
Selling Your Business For Dummies
As business owners gray, trends have shown that they start thinking of cashing out. Selling Your Business For Dummies gives readers expert tips on every aspect of selling a business, from establishing a realistic value to putting their business on the market to closing the deal. It helps them create sound exit plans, find and qualify, find and qualify a buyer, conduct a sale negotiation, and successfully transition the business to a new owner. The accompanying CD is packed with useful questionnaires, worksheets, and forms for prospective sellers, as well as a blueprint for customizing and assembling information into business sale presentation materials sale presentation materials --including snapshots of revenue and profit history, financial condition, market conditions, brand value, competitive arena, growth potential, confidentiality agreements, and other information that supports the sale price.
This book is also available from
Loot.co.za
in South Africa.
---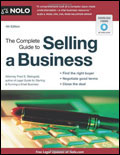 The Complete Guide to Selling a Business
The most comprehensive, easy-to-use guide to selling a business available!
It covers: . getting your business ready to sell . pricing your business and valuing your assets . finding the right buyer . analyzing the tax issues . negotiating a payment plan and other terms of sale . planning your future relationship with the business . limiting your liability . working with lawyers, accountants and brokers . closing the deal and transferring the business to its new owner The Complete Guide to Selling a Business helps you create more than two dozen crucial documents for both asset and entity sales, including: the sales agreement, confidentiality letter, . promissory notes and security agreements,noncompete and consulting agreements and closing checklists.
This edition is completely updated with the latest tax considerations, and now provides more advice on marketing the sale of your business.
There are literally dozens of competing titles on the market, but none can match The Complete Guide to Selling a Business for sheer depth, accuracy and ease of use.
This book is also available from
Loot.co.za
in South Africa.
---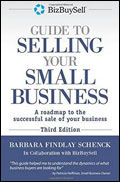 The BizBuySell Guide to Selling Your Small Business: A roadmap to the successful sale of your business
Produced by BizBuySell, the Internet's largest marketplace for businesses for sale, and written in conjunction with Small Business Strategist, Barbara Findlay Schenck, author of best-selling business books including Selling Your Business For Dummies, this guide provides a comprehensive overview of the small business sales process including actionable advice and step-by-step instructions to help maximize selling success.
This book is also available from
Loot.co.za
in South Africa.
---
11 Things You Absolutely Need To Know About Selling Your Business
Selling your business is probably the most significant financial and professional event in your entire life. The process can be intimidating and complex. John F. Dini, serial entrepreneur, successful business broker, coach and consultant to thousands of business owners, takes you step-by-step though the process of selling your company. John's frank and open style developed though years of "straight from the shoulder" conversations with entrepreneurs, gives you the tools you need to prepare, market, and sell your business at the best price. Completely updated and illustrated with real-life stories from John's own experience, this second edition is an even more valuable addition to every business owner's reference library.
This book is also available from
Loot.co.za
in South Africa.
---
Recommended Books - PREPARING a BUSINESS for FUTURE SALE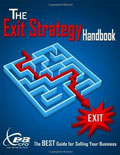 The Exit Strategy Handbook: The BEST Guide for Selling Your Business
This is the book every business owner should have readily available. If you re a business owner, the truth is that at some point you will exit the business. Don t take that step lightly. Being prepared is key, and Jerry L. Mills takes you through a step-by-step process to help you get the most out of your business. With the impending Baby Boomer Tsunami in the next few years, there will be more businesses for sale than at any other point in history. This buyers market will cause great competition. Are you prepared to get out? Make sure you have an in with The Exit Strategy Guide. Along with the book, a helpful Dashboard Software Application is available for an additional fee.
Being prepared is all the strategy you need.
---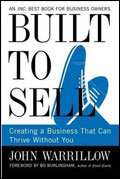 Built to Sell: Creating a Business That Can Thrive Without You
Run your company. Don't let it run you.
Most business owners started their company because they wanted more freedom to work on their own schedules, make the kind of money they deserve, and eventually retire on the fruits of their labor.
Unfortunately, according to John Warrillow, most owners find that stepping out of the picture is extremely difficult because their business relies too heavily on their personal involvement. Without them, their company no matter how big or profitable is essentially worthless.
But the good news is that entrepreneurs can take specific steps no matter what stage a business is in to create a valuable, sellable company. Warrillow shows exactly what it takes to create a solid business that can thrive long into the future.
This book is also available from
Loot.co.za
in South Africa.
---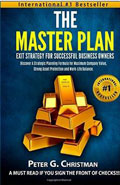 The Master Plan Exit Strategy For Successful Business Owners: Discover a Strategic Planning Formula for Maximum Company Value, Strong Asset Protection and Work-Life Balance
You are going to exit your business.
It's not a matter of if, it's a matter of how (and if you're lucky - when!). If you want the How and the When of your exit to be on your terms, it's time to start developing your Master Plan.
The 5 Ds that ruin 50% of exited business owners;
Strategies for strategic planning, tax planning and life transition planning;
What kind of results you could reasonably expect from your exit;
Which advisors you NEED on your team;
When and How you should go about creating your Master Plan - and much more!
The Master Plan offers timeless wisdom, practical advice and enduring strategy to meet the needs and challenges of a new generation of business owner, who want to be prepared ot exit their businesses.
This book is also available from
Loot.co.za
in South Africa.
---
Recommended Books - GENERAL : BUYING and SELLING BUSINESSES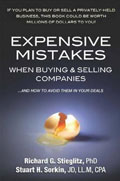 Expensive Mistakes When Buying & Selling Companies
Selling or buying a business can be a lucrative but risky transaction. It's all too easy to sell yourself short or to overpay as the buyer. If you want to avoid the costly mistakes that many business owners make in M&A transactions, this book is for you. It provides valuable guidance on how to prepare for and negotiate your deal, and how to leave the bargaining table with more money in your pocket!
This book is also available from
Loot.co.za
in South Africa.
---
Buying and Selling a Business: A Step-by-Step Guide
A twenty-first-century update to the modern business classic . . .
For more than fifteen years, this handy guide has provided entrepreneurs and small business owners with a simple, step-by-step plan for buying or selling a business-without their own special team of lawyers and accountants. Written by leading business attorney Robert Klueger, this up-to-date guide now includes everything you need to know about recent tax law changes, as well as an entirely new chapter on limited liability companies. It answers all your critical questions, covering everything from the valuation of a business through the negotiation stages to closing the deal.
Packed with the kind of real-world guidance you can only get from a professional
. * Choose a business that's right for you
* Evaluate the business, determine why the seller is selling, analyze the seller's operations, and analyze balance sheets, income statements, and cash flow
* Negotiate effectively-including negotiating for price, timing, stock and asset agreements, noncompetitive agreements, and more
* Buy a franchise-key considerations that make a franchise different
* Ensure a hassle-free closing with no surprises
This book is also available from
Loot.co.za
in South Africa.
---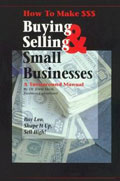 How to Make $$$ Buying and Selling Small Businesses : A Turnaround Manual
This essential business manual shows how to buy a small business, shape it up, and sell it for a profit. The investor-owner controls her or his own destincy, uses business skills, and pays herself or himself a salary in the process. The book includes tips on assessing value and risk in a small business. There is an entire chapter devoted to quick turnarounds. The author also stresses the importance of having a business plan before buying a company. The book will help the reader sharpen the following abilities: performing evaluations of businesses, evaluating the potential upside and risk, developing an exit and business plan, structuring the purchase deal, and getting out at the right time and price.
---