How to Conduct a Due Diligence
Wikipedia
defines Due Diligence
as :
an investigation of a business or person prior to signing a contract, or an act with a certain standard of care.
It can be a legal obligation, but the term will more commonly apply to voluntary investigations. A common example of due diligence in various industries is the process through which a potential acquirer evaluates a target company or its assets for an acquisition.
In the context of a business purchase it refers to the process, undertaken by the buyer, to ensure that the business assets and trading conditions are actually what the seller claims they are.
It is effectively an audit of the sale offer and prospectus
.
Why is a Due Diligence necessary ?
You are about to make a significant investment - paying the purchase price for a business acquisition. You have seen and been told a lot about the assets, the customers, the market, the sales, the suppliers, properties, stock, contracts, staff, insurances, systems and a myriad of other issues. Much of this has been accepted at face value, but now that you have decided to buy you need to start asking some hard questions and make sure that all is at it seems. In other words, you are auditing the offer and checking that everything is as it is stated to be.
In this process you will be examining the business's assets, operations, legal and tax compliance, customer contracts, intellectual property, financial performance and other details. This may have to be completed within a time period specified in a letter of intent.
You will also be looking at intangible risk and liability and in the process of checking seemingly simple issues you may unearth hidden problems. Evidence of high risk factors or negative issues may cause you to rethink the deal - you may even review the seller's credibility and ethics - and you may even withdraw from the sale or have valid cause for a price renegatiation.
You and the seller would usually by now have agreed in principle to a sale, but have not yet signed a sale contract. You may have signed a memorandum of understanding (MoU) which specifies that both parties have agreed to sign the sale contract subject to the buyer being satisfied with the outcome of the due diligence.
While you may not be able to force the situation, you don't want to be caught in an auction (no agreement is signed yet) and your due diligence effort will be in vain. Get a commitment from the seller that there are no negotiations under way with any other party. This is also a sneaky opportunity to see what other offers are on the table, or were recently rejected.
Done properly, due diligence is a lengthy (and therefore costly) process. You should be fairly certain that you want to buy the business and are viewing the due diligence as a prudent and sensible check that must be made before the sale agreement is closed.

Due Diligence is usually divided into three component areas: Commercial, Legal and Financial.
Commercial (or Operational) due diligence:
Plant and equipment; Real estate - property and premises; Stock and inventory; Systems and processes; Employees/staff; Customers; Products and services; Suppliers; Business intellectual property; Market trends and issues; Contracts and agreements.
Legal due diligence:
Claims and warranties; Patents, trademarks and business names; Tax statutory audits and risks; Unrealised legal claims/risks; Contingent and other potential liabilities; Transfer of employee entitlements; Contract terms, Vendor warranties and indemnities.
Financial due diligence:
Financial performance; Debtors; creditors; Work in progress; Salaries and wages; Employee entitlements; Guarantees and bonds; Pre-payments and insurance.
In practice, however, many observed items overlap between these areas and as a result it is easier to work from checklists.

Documents of Founding and Incorporation
Financial Information, Results and Metrics
Assets
Real Estate and Property Leases
Intellectual Property - IP
Employees, Staffing and Due Benefits
Business Licenses and Permits
Environmental Compliance and Risk
Tax Compliance
Material Contracts
Product and Services
Inventory, Stock and Suppliers
Customer Information
Market Trends and Industry Projections
Business Risk Analysis
Legal
Litigation
Insurance Cover
Consultants and Professionals
Press Releases, News and Publicity
Analysing the Sale
Price and Payment
Sale Agreement
In Conclusion..... Some Final Tips




---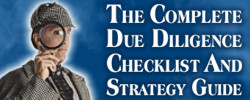 This download contains over 50 pages of powerful due diligence strategies, checklists, worksheets, interactive spreadsheets, and step-by-step instructions for each one of the 200 due diligence points that must be investigated. There is no room for mistakes! You must conduct a due diligence investigation that is so complete that you leave no stone unturned.
You will receive it via email within minutes, and you don't require any special software or PC configuration whatsoever. Everything is formatted in Word and Excel files.

---
Documents of Founding and Incorporation
Founding focuments, such as the Close Corporation
Minute books from board meetings - including resolutions
List of shareholders or members - with percentage interest
List of trading names and registration documents where applicable
List of loans to, and loans from, all members or shareholders
Organizational chart for all staff
CHECKING: The accountability and transparency of owners, directors and management.
Financial Information, Results and Metrics
Audited financial statements for at least three years - with auditor's reports
Current year's management accounts up to the last trading month
Copies of correspondence with auditors for the last three audited years
Copies of all correspondence with auditors since the last audited year
A credit report on the business
Projections, capital budgets and strategic plans
Schedule of all indebtedness and contingent liabilities
Schedule of inventory
Schedule of accounts receivable - Debtors


Has the debtors total outstanding been growing each year by more than the turnover growth?
Has the percentages of total debt in the debtor's ageing reports shifted significantly in recent years?
Are debtors being collected timeously?
How much bad debt gets written off each year? What is the recent trend?

Schedule of accounts payable - Creditors

Are creditors being collected timeously?
Is there a trend in recent years for the creditors balance to change?

What depreciation methods are used and have there been changes in these methods in recent years

Schedule of fixed and variable expenses
Analysis of gross margins
General ledger printout
You can also analyse the financial accounts to answer the following:
Reconcile the management accounts to the accountant's financial accounts for the latest two years to confirm any differences?
• How accurate is the forecasting relative to actual results?
• Where there are significant differences : why did these occur and what were the implications?
What are the risks associated with the business' current debtor and creditor profile?
• Does it make debtor collection difficult?
• Could creditors become reluctant to extend standard credit?
Review the monthly cash flow profile of the business to identify tight periods that impact working capital. Why does this happen?
CHECKING: The quality of the accounting function and installed systems - comparing budgets with actuals, are forecasts realistic and checking business trends.
A schedule of fixed assets and their locations
• purchase price and date, depreciated value, 'fire sale' value
A schedule of all equipment on lease
• initial value and date, current book value, 'fire sale' value, treatment at term and tax implications
A schedule of purchases and sales of major capital equipment during last three years
Real Estate and Property Leases
A schedule of the locations where the business has offices and/or physical presence
Copies of all real estate leases, deeds, mortgages, title policies, surveys and zoning approvals
Intellectual Property - IP
A schedule of domestic and foreign patents and patent applications
A schedule of trademark and trade names
A schedule of copyrights
A description of important technical know-how.
A description of methods used to protect trade secrets and know-how
A schedule and copies of all consulting agreements, agreements regarding inventions, and licenses or assignments of intellectual property to or from the business
Details regarding any claims or threatened claims by or against the business regarding intellectual property use
CHECKING: Does the company have real, enforcable rights to its intellectual property and is that intellectual property safeguarded and secure
Employees, Staffing and Due Benefits
A list of employees including positions, current salaries, salaries and bonuses paid during last three years, and years of service
All employment, consulting, nondisclosure, nonsolicitation or noncompetition agreements between the business and any of its employees
Resumes of key employees
The personnel handbook
A schedule of all employee benefits and holiday, vacation, and sick leave policies
Summary of the plan descriptions of retirement plans
Copies of collective bargaining agreements
Descriptions of all employee problems within the last three years, including alleged wrongful termination, harassment, and discrimination
Description of any labor disputes, requests for arbitration, or grievance procedures currently pending or settled within the last three years
A list and descriptions of benefits of all employee health and welfare insurance policies and/or known self-funded arrangements
Description of worker's compensation claim history
Description of unemployment insurance claims history
Copies of all stock option and stock purchase plans and a schedule of grants thereunder
Do any employee policies put the business at risk of lawsuits?
Are there any ongoing grievances with employees?
Are employees attempting to unionise, or is a third party trying to unionise them?
Have you sighted a complete payroll schedule, with remuneration and entitlements per employee and has this payroll been compared to the supplied schedules?
CHECKING :
• From a human resources position, matters such as salary levels, restraints of trade, pension rights and terms in the employee's contract (especially notice periods) must be considered
• What is the current organisational structure, and specific roles and responsibilities of the main roles driving the business?
• Are there any risks and issues with the transfer of employees,including entitlements, claims and other liabilities?
• Have you reviewed all employment documentation (contracts, verbals, promises, other) and considered the implications for transfer?
• It is vitally important that you understand the key processes and procedures that drive business performance (e.g. the job/project management process from order through to deliver and billing) and do you understand each step. This is matched to the employees in the processes and you need to investigate the following.....
• What are their strengths?
• What are their weaknesses?
• How are they performing?
• What are their roles?
• Do they have defined position descriptions?
• What are their expectations of their roles?
• What are their employment conditions and entitlements?
• What is the risk of losing key staff when you take over?
• Does the current owner have a key role and can that effect the successful transfer?


Business Licenses and Permits
Copies of any government (local, provincial and national) licenses, permits or special consents
Copies of any manufacturing or other licences and usage agreements that relate to products, processes or services where the technology or right to trade are provided under consent and permission
Is the business governed or under the control of any regulatory or government agency? What is the extent of that agency's influence and pronouncements?
Is the business under the control of any industry council or watchdog body and how is that control exercised
Does the business import or export and are there applicable customs and excise exemption permits involved?
Environmental Compliance and Risk
A listing of hazardous substances used in the business operations
A description of the waste disposal methods used by the business
A list of environmental permits and licenses required and obtained
View correspondence, notices and files related to environmental agencies
Describe any environmental litigation or investigations in the past three years
Describe any contingent environmental liabilities or continuing indemnification obligations
Have there been any environmental audits for any property leased by the business
CHECKING : The risk of contingent liability (think uninsured) of incurring cleanup costs and/or restitutive damge liability resulting from pollution or environmental harm.
SARS tax returns for the last three years MUST be provided
Does the business have a current SARS tax clearance
Is any tax due (or liable) to offshore or foreing tax collection agencies
Does the business import and are excise and customs duties payable on the imports
What are the VAT payment conditions? Three years returns should be viewed
Are there any provincial tax obligations
Has the business been under any form of tax audit in the past three years?
Are the employee tax filings for PAYE and SITE up to date? Review three years returns
Are the employee insurances up to date? Workmans Compensation and Unemployment Insurance (UIF) returns should be viewed.
When was the business last visited by a Department of Labour inspector
Does the business own any assets which would be subject to any form of capital gains tax?
Has a professional accountant been consulted for an opinion on how the assets have been valued for the best tax advantage?
A schedule of all subsidiary, partnership, or joint venture relationships and obligations, with copies of all related agreements
Copies of all contracts between the business and any officers, directors, shareholders or affiliates
All loan agreements, bank financing arrangements, lines of credit, or promissory notes to which the business is a party
All security agreements, mortgages, bonds, indentures, collateral pledges, and similar agreements
All guarrantees and suretyships to which the business is a party
Any installment sale agreements
Any distribution agreements, sales representative agreements, marketing agreements and supply agreements
Any letters of intent, contracts and closing transcripts from any mergers, acquisitions, or divestitures within last five years.
Any options and stock purchase agreements involving interests in other companies
The standard quote, purchase order, invoice and warranty forms
All nondisclosure or noncompetition agreements to which the business is a party.
All other material contracts.
Will contracts remain in place after the change of ownership? Are there escape clauses for the absence of the current owner?
A list of all existing products or services and products or services under development.
Copies of all correspondence and reports related to any regulatory approvals or disapprovals of any of the businesses products or services
A summary of all complaints or warranty claims.
A summary of results of all tests, evaluations, studies, surveys, and other data regarding existing products or services and products or services under development
Inventory, Stock and Suppliers
How closely do inventory levels for major products match historic and expected sales levels for an industry relevant timeframe (sales cycle)?
What are the specific payment and supply terms (by written agreement or verbal) for each main supplier to the business?
What do the business' key suppliers think about the business and its performance, strengths and weaknesses?
What portion of the business' inventory could be classified as slow moving or obsolete?
Do you have enough decision support and information to conduct a stocktake at completion
Is the stock in sellable condition ?
A schedule of the business's ten largest customers in terms of sales and a description of sales over a period of two years
Any supply or service agreements
A description or copy of the business's purchasing policies
A description or copy of the business's credit policy
• a list of customers signed and bound by that policy
• a list of customers not signed and unbound by a credit policy
A schedule of unfilled orders
A list and explanation for any major customers lost over the last two years
All surveys and market research reports relevant to the business or its products or services
The current advertising programs, marketing plans and budgets, and printed marketing materials
A description of the major competitors
CHECKING : Is the customer base diversified and growing and the supply chain diversified so that the business isn't overly reliant on too few suppliers?
• Is there a diversity of sales by major product line over the past two years?
• Where does the business receive sales inquiries from and how does it market its propositions?
• What do key recent customers think about the business' product and service offering?
• What are the key trends, business issues, competitive dynamics and regulatory changes impacting the sector and geography that the business operates in?
• What does the pipeline of business with potential customers look like? How many quotes are there, how many orders, what's the work in progress look like?
• Where does the business come from? The footpath, interaction with a customer database, referrals, networks?
• What do the customers think of the business?
Market Trends and Industry Projections
A list of all market analysis surveys and projections tat hvae been made in the past three years
A description of the marketing department or marketing committee composition
What publications and/or industry technical input is subscribed to in order to gather market intelligence?
The current marketing strategy and/or policy - and how are the strategies developed, adopted and implemented
CHECKING : You are assessing the strength and capacity of the marketing team to anticipate industry changes and the secure future sales.
Technology Risk - Could products or services be developed which could rapidly erode the market?
Consumer Trends - Is the market of the nature where fickle consumer demand, as in fashion goods, could switch to other (functional) products that would cause loss of market position?
Brand Dependence - Is the brand name the driving force behind sales. Could that brand awareness switch easily or is it well entrenched. If the answer is "yes" then you need to check the reasoning given
Key Staff Dependence - If the loss of a few key staff similtaneously would be crippling, then how would the business protect itself from that.
Institutional Memory - where is it vested? (linked to preceding) Is it systemised somewhere in procedure manuals or handbooks? Is it easily transferable?
Weather, Climate and Environment - could these effect the business negatively in the short and long term.
Political Exposure - does a particular political situation favour the business. How would te business react to a political change
Government, Parastatal, Provincial and Local Government Dependence - Is this mixed between multiple departments and provinces and is there sufficient private sector business for a diversified customer base should changed regulations or in-house supply threaten sales?
Contract Renewals - would the non-renewal of any particular contact be a cause for significant alarm in terms of the business being able to continue to operate. You should be looking at contracts with suppliers, customers, equipment providers and landlords
CHECKING : There are many factors which constitute risk to the business and you are ensuring that these are catered for and that the business is, where applicable, aware of these risks.
What are the terms and conditions of any applicable lease agreement and your obligations and rights under such agreements?
Are there any notices with regard to health, water and sewerage or other government requirements that have been served on the business and require work to be carried out?
Do you understand your obligations under the intended business legal structure?
Are there any legal proceedings pending against the business or the seller?
Have you sought legal and accounting advice on the best way to handle your finances, the purchase and your business structure?
CHECKING : Are the existing agreements and contracts enforceable? Is the company involved in any litigation, and if so, what are the potential risks, costs, and damages?
The legal investigation is to satisfy the buyer that the legal affairs of the business are in order, especially the ownership of assets, and that the business complies with statutory requirements and that the main contracts affecting the business are in order.
Whether or not you do legal due diligence tends to be a factor of your preference for risk and the price of the business you are considering purchasing. A simple business that is selling for a relatively low price would not necessarily require an investment in legal due diligence. A liquidated or dormant business would have little exposure to contracts.
A schedule of all pending litigation - what are the potential risks, costs, and damages?
A description of any threatened litigation
Copies of insurance policies possibly providing coverage as to pending or threatened litigation
Documents relating to any injunctions, consents or settlements to which the business is a party
A list of unsatisfied judgments
A schedule and copies of the business's general liability, public liability, personal and real property, product liability, errors and omissions, key-man, directors and officers, worker's compensation, and other insurance.
A schedule of the businesses's insurance claims history for past three years
If there is more than one owner - is there partnership insurance?
Many businesses are under-insured. And this might only be apparent when claims arise. Ask your current insurance broker to review the business's insurance on your behalf.
Consultants and Professionals
A schedule of all law firms, accounting firms, tax consultants, general business consulting firms and similar professionals engaged by the business during past five years
• why were they needed
• had they ever been used previously - when and why

Is consultant use common in the industry?
.
Press Releases, News and Publicity
Copies of all published articles, press coverage articles and press releases relating to the business within the past three years
Follow through the reason given for the sale to ascertain that was the true reason.
Ask for details of discussions and negotiations with interested parties (prior to your interest) and determine why those potential buyers did not proceed
Are there still valid and alive backup offers?
CHECKING : Is there a major negative factor (or a potential future factor) which would impact badly. And if you found after the sale that you wanted out- how easy would it be to sell?
What would be the redress, penalties or price relief if misleading information has been provided by the seller. The principles of latent and patent defect should be addressed.
Does the draft contract identify specifically the assets you're purchasing, the liabilities you're assuming and the precise date and time when you'd take over the business?
In drafting your offer, have you included escape clauses covering finance, record inspections, obtaining necessary licences and rights, other transfers, and achievement of minimum trading levels during the trial period?
Have you arranged for total control over the recording of cash sales and banking for the trial period?
Is the business being sold as a going concern or will the current business be wound up? Legal advice is usually necessary on this.
If buying part of a company or entering a partnership, do you know of any limits on one person making a commitment on behalf of the business?
Make sure that the agreement deals with the rights, penalties, sanctions, obligations and recourse for missed, late and non payments. This is usually the most common problem with the transaction (holistically) and it is imperative that all possibilities are catered for in advance.
In conclusion..... Some Final Tips
What has all this achieved?
At the end of the due diligence process, you should have a clear picture of where the business is today, where you can take it in the future, why the owner is selling, and whether the asking price is fair.

There were some problems found - now what?
If anything is found which is negative, this can be used to seek a reduction in the purchase price. The seller may be expecting this and knows you are a serious buyer - after all you have done the due diligence. This is your last negotiation opportunity.

Keep records for renegotiation
You will need hard evidence for discussion if at the end of the process you have found reasons for concern, and hence a lower price, but you still want to buy the business.

Ask the hard questions
You may have formed a friendly relationship with the seller and now you are basically grilling that person and questioning ethics and honesty. This will be difficult but it has to be done. You may want a third party, such an an accountant, to handle this for that very reason. Remember that if the sale is concluded you will still need to work with the seller during the handover so you don't want to compromise that relationship or get off to a bad start with the employees.

Beware of withheld information or fuzzy answers
These are often warning signals that all is not well in this area. And you probably need to go in hard and investigate these factors more exhaustively.

Don't believe what you want to believe
Just because a satisfactory answer is given - it doesn't mean that it is true. Is the phrased language ambiguous? Lawyers are good at spotting statements that can be defended as having different interpretations. If you really want the business then it is human nature to be positive and underplay the significance of the negative factors. You need to be hard nosed about this and ensure that the answers are solid and valid.

Have you got a clear understanding of the business from every angle?
You have assessed the findings from all the participants - lawyers, accountants and other professionals. As the buyer you must be sure you have a comprehensive picture of the business in order to make an informed - and correct - decision to buy.

If, earlier, you saw synergies in the purchase then review them now.
Has the due diligence confirmed the strengths (and weaknesses) that would enable you to increase the revenue and profits of the business.
---
Due Diligence: The last stage in the business-buying process: "The Final Frontier". This is the time when you will have access to all of the company's books, records and files. You will have a pre-determined due diligence period in which to investigate the information to ensure that it is true and accurate. The due diligence phase is also the time when many prospective business buyers make the most expensive mistake of their lives!
Every seller knows certain things that they definitely don't want you to discover. The question is: Are you going to learn their secrets before or after you buy?

Due diligence is the way to discover everything before you buy. Once you close the deal it's too late! There's little or nothing that can be done about it. The consequences can be enormous.

Every task that you need to do, every step that you must take, every hazard that you must avoid is outlined for you in our complete Due Diligence Study Guide.

---
---
Related Resources :
Buying a Business
How to Buy a Business
Restaurant
Internet or Online
Retail
Manufacturing
Service
Wholesale / Distribution
Service Station / Convenience Store
Liquors
Conducting a Due Diligence on Buying a Business
Selling a Business
Preparing Your Business for a Future Sale
How to Sell Your Business
Determining a Realistic Selling Price for Your Business
General Topics
Financing Sources for your Business Purchase
How to Choose a Business Partner

Anything we left out, stuff you don't agree with.?
Good article, bad article.?
Please give us your comments and suggestions.